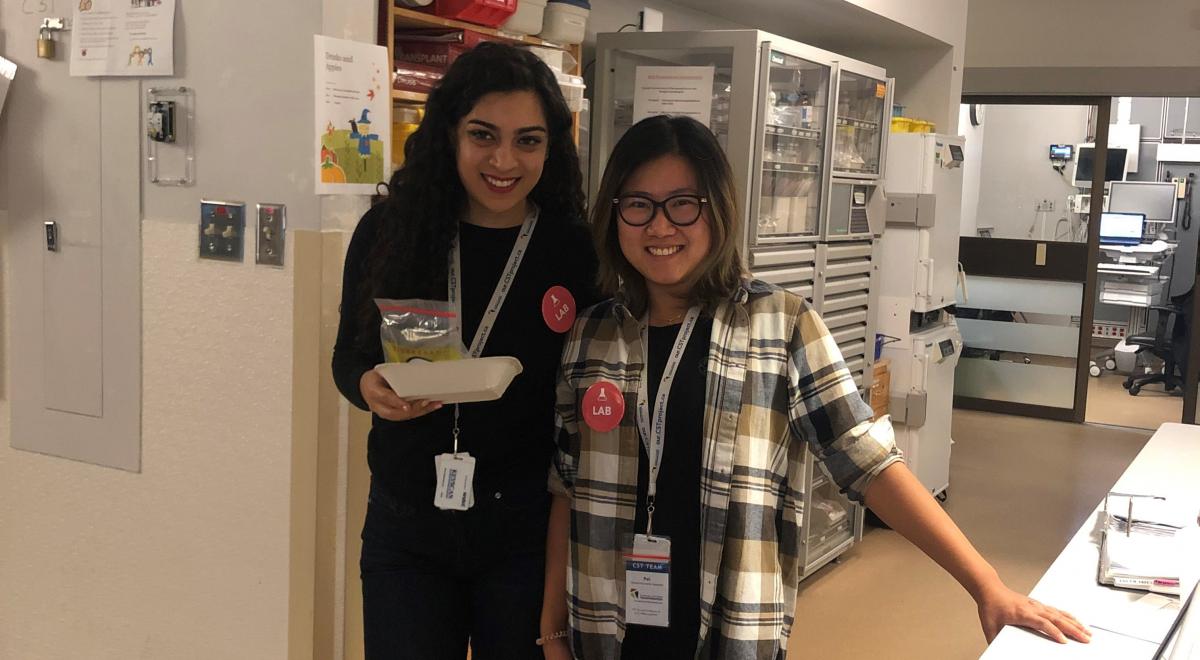 Joumana Ghali (left) and Pei Zhao from the Clinical Collect team at Lions Gate Hospital.
Before the roosters were awake on September 28, the Clinical Collect project went live at Lions Gate Hospital. The project, which streamlines the unit specimen collection process for nurses and respiratory therapists, was activated in the Intensive Care Unit at 4 a.m.
"The go-live went really well. There were no impacts to patients, and we had 100 per cent adoption and zero JIRA issues logged on the first day," says Joumana Ghali, Clinical Collect Project Manager (pictured at right with Pei Zhao, Intensive Care Unit RN and Clinical Collect team member). She adds that clinicians in Lions Gate's ICU were eager to get rolling. "I arrived early, around 3:30 a.m. – 30 minutes before go-live – and staff were asking 'Can we start?'"
As soon as 4 a.m. rolled around and the first specimen was collected, staff went through the new workflow without needing at-the-elbow support. 24/7 go-live support at Lions Gate ended on October 5, and daytime support continued on-site until October 11.
Benefits to patients
The Clinical Collect rollout, the first of its kind in western Canada, ensures positive patient identification each time a specimen is collected on the unit. The nurse scans a special barcode on the patient's armband and prints a patient-specific label right at the bedside, helping to eliminate specimen labeling errors.
"It's an accreditation requirement to label the specimen at the patient bedside, and now we adhere to that," says Joumana. "This enhances patient safety and provides a closed-loop process for RN unit specimen collection."
What Lions Gate ICU clinicians are saying
"It's so nice having our computers talk to the computers in the lab."
"One less task on my single patient task list to check done."
"I like how the new labels tell us which colour tube to use." 
Providence sites up next
Joumana credits the hard work of the Clinical Collect team and the staff at Lions Gate for such a smooth transition. She believes this will set the team up for success at Providence Health Care on November 16, when Clinical Collect rolls out in line with the CST project at St. Paul's Hospital, Mount Saint Joseph Hospital and Holy Family Hospital.
"This was a really great trial run for us. Now we're focused on getting ready for PHC!"