At 6:15 a.m. on Saturday, April 28, cheering and clapping erupted at Lions Gate Hospital and Squamish General Hospital as physicians and staff got the official go-ahead to start using a new Cerner clinical information system. It was a moment years in the making – a moment made possible by the hard work of hundreds of health care professionals from across VCH, PHSA and PHC and many others who have been supporting the transformation. 
Along with the new system, which replaces existing aging systems, new clinical devices and workflows were introduced to the two acute care facilities. Lions Gate Hospital and Squamish General Hospital sites are the first of about 40 sites across VCH, PHSA and PHC that will adopt the changes over the next several years as part of the Clinical & Systems Transformation (CST) project.
"It was beyond moving to see our clinical teams start to make such a big adjustment – for the benefit of our patients – in how they deliver care," Mary Ackenhusen, CEO, VCH said in a message to VCH physicians and staff on April 30.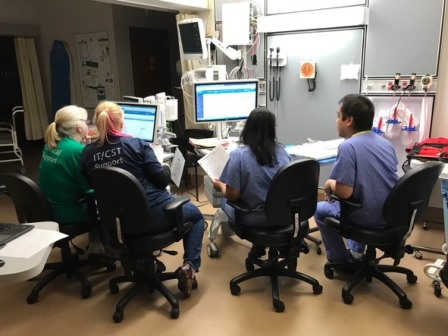 In advance of the go-live event, a cutover team worked tirelessly through the night to register and manually enter orders and medication profiles for more than 230 patients. In the preceding weeks, over 740,000 existing patient records, thousands of patient appointments and over 300 residential care patient charts had been loaded into the new system.
Several hundred support staff from the region, PHSA, PHC, other health authorities and software partner Cerner remain on site at Lions Gate and Squamish General providing at-the-elbow clinical and technical support. This includes more than 70 nurses who've been seconded or recruited from other VCH Communities of Care, PHSA and PHC. They've been trained to work at Lions Gate and Squamish General before and after the system is activated to increase overall capacity to provide quality care.
"On the whole, providers, clinicians and staff are adapting well to the new clinical information system and workflow changes. They have shared positive feedback about the calibre and level of at-the-elbow support and our Cerner partners have commented about the quality of the system and how smoothly the first few days have been," said Ackenhusen.
"This project is often associated with an IT system, but it has always been about delivering safer, better, more consistent patient care," said Michael Long, CST's Chief Transformation Officer, in a message to the CST project team. "There's still a lot of hard work to be done to achieve successful adoption of the changes, but with this milestone we can see the path to our goal clearly."