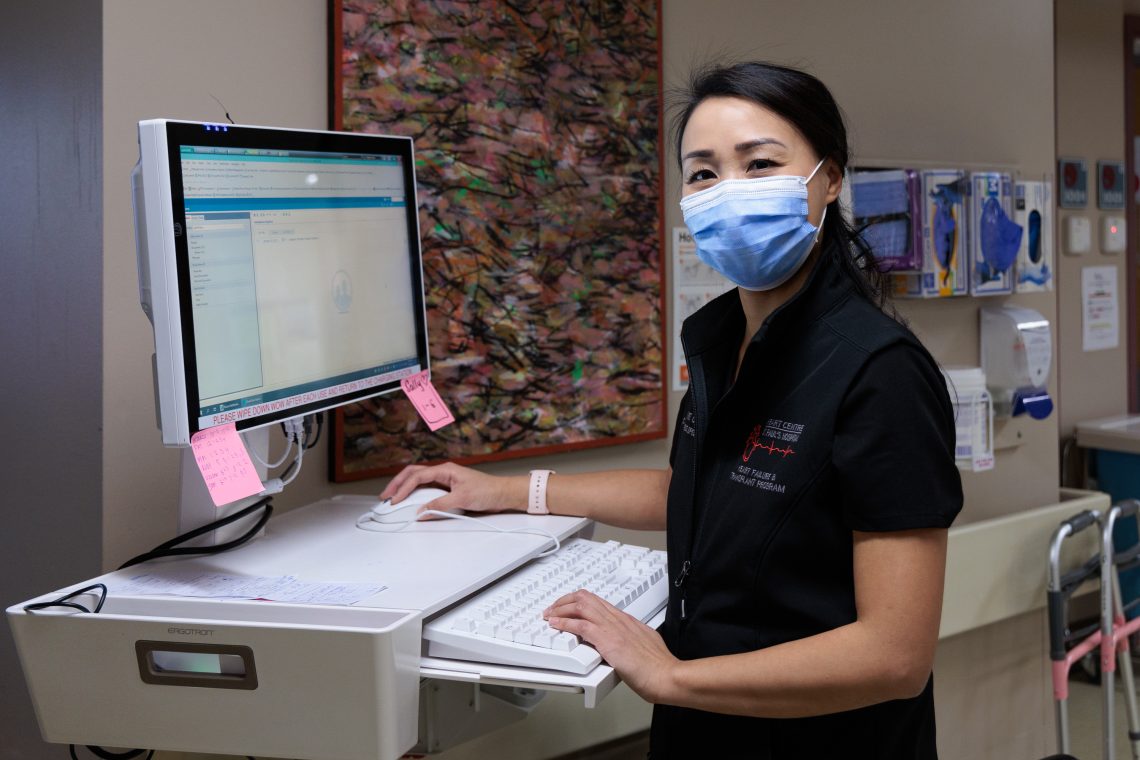 Wynne Chiu, Clinical Nurse Specialist in the cardiac transplant program at St. Paul's Hospital, with a CST Cerner 'workstation on wheels'.
As a Clinical Nurse Specialist in the cardiac transplant program at St. Paul's Hospital, Wynne Chiu cares for patients who have come from all over the province for a new heart.
The cardiac transplant program was among the services at St. Paul's, Mount Saint Joseph and Holy Family hospitals that adopted the regional electronic health record system known as CST Cerner in a massive go-live effort in November 2019.
"The best thing about CST Cerner is just how much access to information has improved," says Chiu.  "Because everyone is looking at the same chart, the chance of misinterpreting something, or not finding something because it's buried in the paper chart, becomes much less likely."
As the province's only adult heart-transplant program, St. Paul's receives patients from other hospitals and health organizations. "When we get a referral from other sites that are live on CST Cerner, we can avoid pitfalls in transition of information, as we are already sharing the same chart," says Chiu. She says when a transplant patient moves from St. Paul's to Holy Family for rehab post-surgery, the system allows for continuous care. "Patients feel a sense of security knowing that our program [at St. Paul's] can still easily be involved in their care from afar."
Common clinical processes = more consistent care
The Clinical & Systems Transformation (CST) project is a multi-year project between Vancouver Coastal Health, the Provincial Health Services Authority and Providence Health Care to replace multiple aging health information systems and paper charts with one common electronic health record.
Perhaps most importantly, through this project, these three major health organizations also establish common clinical processes to determine the best practice and build it into the system. Lions Gate and Squamish General hospitals were the first sites to go live on the new system in April 2018. Providence's acute hospitals launched a year and a half later.
Providence goes live, but it's just the start
Early one Saturday in November was a big moment for St. Paul's, Mount Saint Joseph and Holy Family hospitals. "Everyone had worked themselves to the bone for an entire year to get the system to that point," recalls Chiu. "There was this big, positive momentum of wanting to make this work the way it was meant to work."



Scenes from Providence's November 2019 go-live at St. Paul's, Mount Saint Joseph and Holy Family hospitals.
"The go-live was a great accomplishment in itself, but it really was just the beginning of our work," says Grant McCullough, Executive Director Professional Practice & Nursing, Clinical Informatics, who has led Providence's involvement in the CST project since 2013. "So the next step was setting up the Clinical Informatics team and structure to develop our approach to leveraging the system to support the needs of care, our clinicians, and the organization."
Ready, set…pandemic
Mere months after Providence's acute go-live, the COVID-19 pandemic hit and the organization had to rapidly adapt. CST Cerner quickly proved valuable in aiding the COVID-19 response by enhancing access to virtual health workflows and supporting tracking, reporting and decision making.​
"When COVID hit, a lot of clinicians, including myself, thought, 'Thank goodness we're on the new system because of the need to pivot virtually,'" says Chiu. "But at the same time, because it was new, we were still working out the hiccups. Clinicians were simultaneously dealing with the move to CST Cerner, pivoting to a virtual platform, and the uncertainty of the pandemic."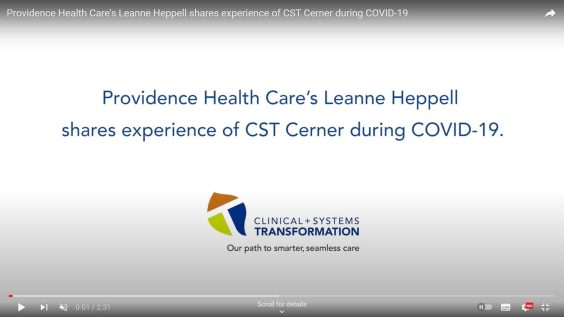 Watch: How CST Cerner supported Providence's pandemic response.
Getting Providence's remaining sites up and running with CST Cerner initially took a back seat to the organization's pandemic response. But halfway into 2020, Providence's implementation team and the CST Project team introduced a new model of bringing clinics and programs onto the system in smaller cycles to avoid overwhelming staff.
By the end of 2020, Providence had successfully brought additional long-term care sites, ambulatory clinics, tertiary mental health units, assisted living and community dialysis units on the system. Providence kept up the pace through 2021 and 2022, with the last group of clinics from the initial scope going live in December 2022.


Subsequent go-lives at Vancouver Community Dialysis Unit, St. Vincent's: Brock Fahrni long-term care home, and the BC Home Parenteral Nutrition Program – live in August of 2021.
The system around the system
The CST project has successfully brought dozens of sites and hundreds of clinics online, including BC Women's and Children's Hospital, Vancouver General Hospital, and BC Cancer – Vancouver. All have been supported through their transitions by Providence's Clinical Informatics team, staff and medical staff. Every new site that joins the system brings greater connectivity and possibility.
With the implementation phase complete, Providence is maintaining momentum as it prepares to open the new St. Paul's Hospital in 2027.
"These big hairy projects that you conquer create a tremendous amount of tailwind energy and the planning of the new St. Paul's has come right on the heels of this," says Dr. Eric Grafstein, who joined the CST project as Chief Medical Information Officer in 2014. "If you're trying to build the hospital of the future and be a leader in preventive health care, you have to have an electronic health record. There was really no way around it."​


The Clinical Informatics team ensures Providence's clinical information systems are built as efficiently and effectively as possible to drive patient safety and best practice, and support our transition to the new St. Paul's Hospital.
The Providence way
Many credit Providence's culture in helping the organization and CST project team to get all of Providence's 17 sites and more than 150 outpatient clinics live and connected on CST Cerner – especially during a pandemic.
Becky Palmer, who joined Providence as the Chief People, Nursing & Health Professions Officer in 2022, has seen the project come full circle over the past decade. "I was working at Children's and Women's  in the early days when we were beginning to have conversations around CST, and about what was even possible," says Becky. "Now I'm working in the organization – and with the team – that rolled up their sleeves and did a lot of the heavy lifting."
For Chiu and colleagues, the benefits of being on the system have outweighed the growing pains. "We will never paint this as the perfect system. We've always tried to be upfront about the struggles people are going through and the work required to make this really optimal. But we're getting there."​
---