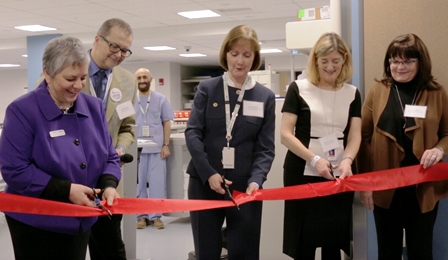 The Vancouver Pharmacy Production Centre (VPPC) was officially opened yesterday, marking a major milestone for health care providers across VCH, PHSA and PHC and a big step forward for the Clinical and Systems Transformation (CST) project. 
This new facility better equips the Lower Mainland Pharmacy Services (LMPS) team to meet demand for medication orders. The VPPC is bigger than its predecessor at St. Paul's. It will serve more sites and — through new automated and human processes — will improve safety, efficiency and consistency of medication delivery.
The work of LMPS at the VPPC opens the door to a new era in pharmaceutical health care. It's a cause for celebration for health professionals and patients alike.
Adding value today, and helping shape the future
VPPC staff will prepare medications so that they are packaged more appropriately for the specific patient for whom they were ordered. This will save nurses time when preparing medications for administration.
"There's a lot of value in what the LMPS team offers health care providers," says Tessa Valg, Manager, Production Centres and Drug Distribution Systems. "At the moment, nurses are expected to perform many manual processes to administer medications. The VPPC will support them to do their job safely."
Work performed at the VPPC will underpin other transformations taking place across VCH, PHSA and PHC. For example, the safety measures built into selecting, packaging and labelling medications are essential to closed loop medication management, a process that will be introduced at acute care facilities as part of CST. Learn more from the video Get in the loop.
Better equipped to meet demand... safely
The new VPPC is located at Vancouver General Hospital. It replaces, and is approximately six times larger than, the facility at St. Paul's Hospital, and operates from 6 a.m. to midnight seven days a week. VPPC will expand its services to include acute and residential care sites throughout VCH, PHC and some PHSA agencies.
When medications arrive at the VPPC from manufacturers, they are sorted, packaged and labelled for distribution. As Tessa points out, the new VPPC "makes the best use of our equipment and operational expertise. By consolidating our equipment and centralizing trained staff, we become more efficient."
"A centralized facility also supports quality assurance efforts," says Michele Babich, (now former) Executive Director, Lower Mainland Pharmacy Services. "Processing an increased number of orders to consistent standards in one centralized location improves the quality of our output."
Because of the volume of orders, some parts of the operations are automated. For example, orders for non-tablet medications such as liquids will be filled by an automated inventory robot or "box-picker" that collects the items. For security, staff will not be able to retrieve an item from the box-picker without scanning the barcode first.
VPPC is pivotal to closed loop medication management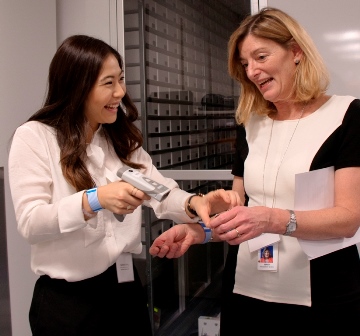 Once a medication order is entered into the system, it will be transmitted directly to the site's pharmacy for verification. Once verified, the electronic order files will be sent to the VPPC. Medications are packaged by the VPPC both as patient-specific supplies and in larger, non-patient-specific quantities that the hospital pharmacy can store on site. When medications distributed by the VPPC arrive at a site, they will be received by the site's Pharmacy team, distributed, and stored in medication carts, Omnicell cabinets or fridges as appropriate.
While tablets and capsules may arrive at the VPPC from the manufacturers in bulk containers with barcodes to identify them, they must be repackaged with a barcode for each unit dose of medication. Additionally, many of the doses required by patients are not available from the manufacturer at all, and must be split into the appropriate dose. Other medications such as liquids, injectables, patches and creams often have no barcodes at all. VPPC staff will repackage and apply barcodes to these products so that all medications can be scanned at the bedside.
All medications distributed from the VPPC will have a unique barcode. Post-CST, the information associated with that barcode will also be listed in the patient's electronic health record. For safety reasons, only if the information matches will the nurse proceed to administer a medication. If there is no match, the system will alert the nurse.
To close the loop safely, patients will be electronically identified by a barcoded wrist band; and health care providers will electronically sign to confirm that the medication was administered.