On a rainy morning in November 2019, Grant Bowen arrived at St. Paul's Hospital. At 8 a.m., he was scheduled to have an operation on his ankle. His partner, Fiona Lewis, was by his side.
"I've had congenital issues with my ankles for a long, long time. I don't know why – maybe slap shots to the ankles or skiing injuries," said Grant, a technical engineer for a software company. "I've had two surgeries on my left already and this was my first one on my right."
Grant's surgeon had given them a head's up that the CST Cerner system was going live on November 16 – three days before his surgery. But it didn't become real until they arrived at the hospital and saw the posters: "Providence Health Care is going electronic!"
"I had a moment where I thought, 'Boy, I hope this whole new software isn't going to screw anything up here," said Fiona, a consultant with non-profits and small businesses. "But I just had faith that they wouldn't have been implementing it if it was likely to lead to harm."
Turning to Grant, she added, "You even said at one point, 'Well, it doesn't affect what the surgeon does.' You said to someone, 'It's still a scalpel – they're still using a scalpel – nothing's changed.'"
Learning curve
As they waited for the surgery to begin, the couple noticed that things were taking longer than usual. Soon, they were advised that the surgery start was going to be delayed by 15 minutes. But it wasn't a big deal for Grant.
"Everybody was talking about it – it was kind of fun in a way," he said. "The attitude of the people giving me care was almost universally positive, which I was quite surprised with, because it's stressful; their time is being used up by things they're not used to doing."
The pair was surprised with how many clinical support people were on the floor, helping their caregivers when they needed it.
"They were really good at just hovering nearby and not interfering, but being there in case someone had a question. They seemed to know the software really well, so I could tell the staff felt reassured having these people at their shoulder," said Fiona.
When Grant went in for his operation, Fiona waited. The hospital was abuzz with activity, she said, as clinicians and providers were getting used to the new system.
"At one point I went up to the cafeteria and that was a big hub of activity. It was pretty impressive – all the infrastructure that was in place to support them all."
Less repeat questions
Fiona was no stranger to the CST project. She'd known about it for a while through her work and she also regularly brought her mother-in-law to Lions Gate Hospital, which went live with the CST Cerner system in April 2018.
"Every time she went back (to Lions Gate), we didn't have to provide as much information as we used to," said Fiona, referring to her mother-in-law's medical history being saved in CST Cerner. When staff have this electronic resource at their fingertips, it takes the burden off patients and caregivers having to remember their information at each visit.
"The benefits of this, to me, seem to be that you have less repetition of questions asked of patients, more efficiency overall, and better data," said Grant.
On the mend
Following his successful surgery, Grant is looking forward to being able to walk without pain and travel with Fiona again. When asked what his recovery has been like, Grant – his right foot elevated as he lays on the living room couch – responded with a smile: "Bor-ing. That's the worst part."
"It's different being stuck at home; we're usually pretty active and go out a lot," added Fiona with a laugh. "We're trying to stay good-humoured about it, and keep putting the x's on the calendar as each day goes by."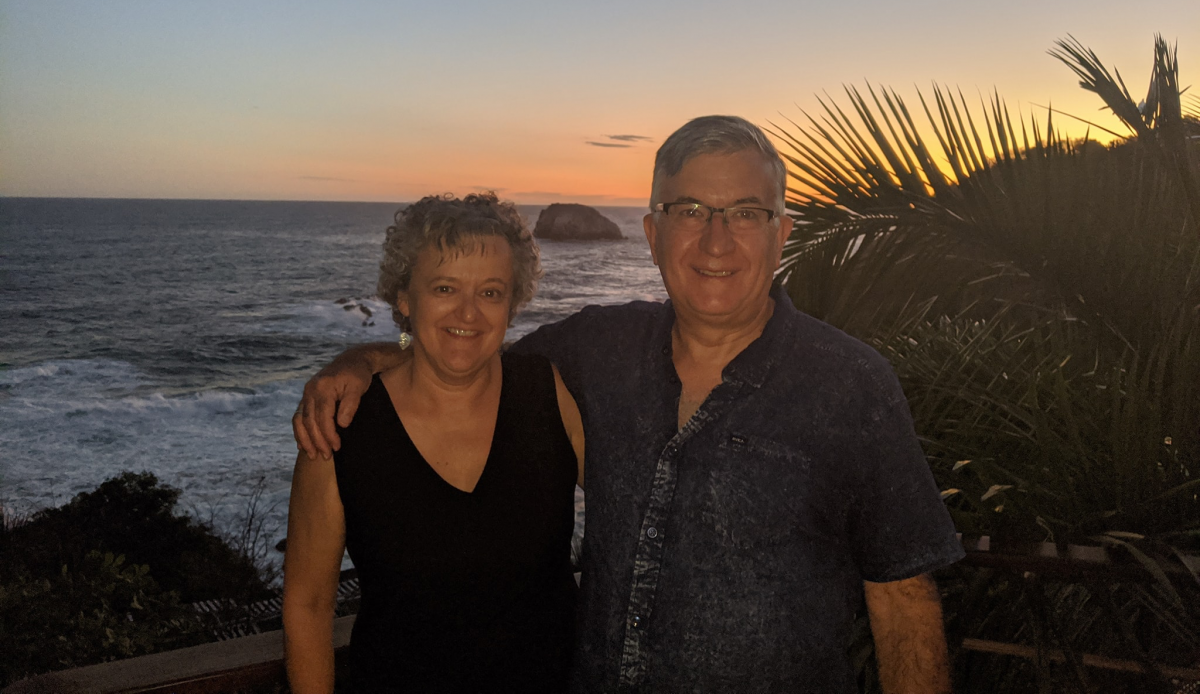 After this story was written, Grant and Fiona enjoyed a great trip to Mexico.