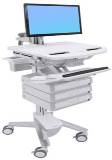 Devices in scope for CST include workstations on wheels, medication delivery carts, barcode scanners, label printers, laser printers, document scanners, tracking boards, tap-and-go readers, and desktop and laptop computers.
Through diligent clinical, business and technical requirements gathering and analysis, CST's Device team is creating and verifying a device list that is backed up with robust supporting technologies and sustainable procurement and operations models.
The team is considering user experience and configurability at every step. Arriving at the proposed device list involved approximately 500 tests over two weeks. 70 participants from 40 clinical disciplines traveled 10 kilometres with workstation-on-wheels carts and performed over 8,600 barcode scans.
The Device team also provides site assessment and consultation services to help guide purchasing and deploying devices that align with enterprise future-state workflow, while meeting environmental and budgetary needs.
Workstations on wheels and medication carts have a computer that accesses the new clinical information system and a barcode scanner. They allow staff to view electronic charts while at the patient's bedside or doing rounds.
Using a barcode scanner on patient identification and medication packages, the information appears in the system automatically – an important part of achieving closed loop medication management.
Before each site goes live with CST, the Device team will offer recommendations and work with each area to determine what devices are needed and where they should go. They will also work with sites to assess power availability, network connectivity and other key considerations.