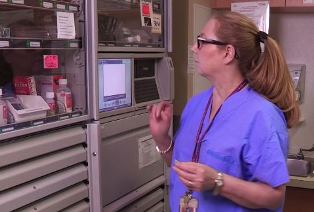 CST's Pharmacy Infrastructure team is currently working across VCH, PHSA and PHC sites to upgrade and install automated dispensing cabinets, also known as Omnicell cabinets, in patient care areas.
These site-based projects are being carried out now where it is technologically possible, to ensure that renovations, education and changes to workflows can be embedded before the new clinical information system is implemented.
The Omnicell cabinets will ensure secure storage of barcoded, unit-dosed medications, as well as improving inventory management on the units.
The automated medication storage cabinets play an important role in the closed loop medication management process we will be implementing.